Building confidence is a common goal for people at Mambourin. When you join our community, you'll find lots of fun opportunities to build confidence independently, with your friends, at local events or anywhere else.
Here are some practical tips and fun activities that can help you become more confident.
Be kind to yourself
Your thoughts have a powerful impact on your confidence levels, so positive self-talk is important. Make an effort to be kind, positive and supportive, just like you would be for a good friend. This is a habit that can go a long way toward building self-confidence.
Take time to think of all the good things about you. Maybe you're a wonderful friend or a great listener. Maybe you're a really great teammate when you play sports or you're an awesome singer. Celebrate all these things that are wonderful about you and the things you enjoy doing.
It also helps to remember that everyone has their own strengths and weaknesses. There will always be things other people can do better than you, but there will also be lots of things you can do better than others. It is best not to compare yourself to others.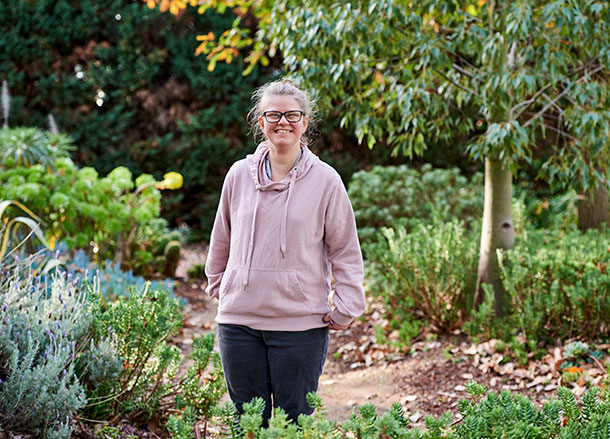 Ask others what your strengths are
Ask a friend or family member what they think you're good at. You might be surprised at all the things they tell you! Sometimes we are our own worst critics and don't realise our own strengths.
It can be a real confidence boost when your best friend tells you you're a great listener or that you're really funny. This is one of the ways confidence can come from those around us and why it's so important to seek out supportive relationships.
Practise your social skills
If you are looking to build social confidence, look for opportunities to practise social skills. The more you practise, the more comfortable and confident you will become.
Sometimes you might still feel nervous when meeting new people. But don't worry, everybody feels like that sometimes. Remember to smile and try to relax. If you are worried about what to say, start by asking them how their week is going or about the types of things they like to do. Showing genuine interest, listening and sharing experiences are great ways to connect.
Mambourin has a number of programs that offer social opportunities where you can participate in group activities and build your social skills.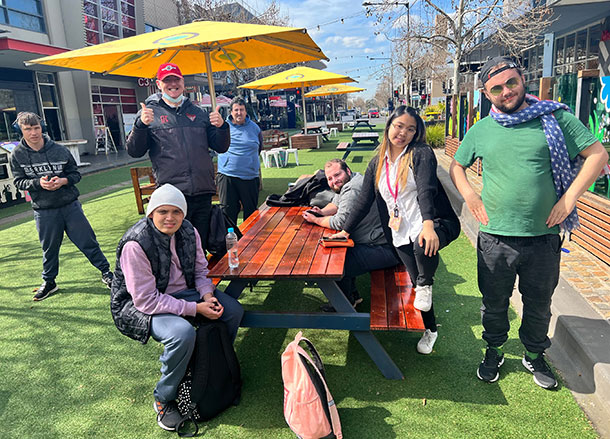 Learn a new skill
Learning new skills can create a genuine sense of accomplishment. Each time you set out to learn something new, it's an opportunity to set small goals, celebrate your successes and feel more confident.
You may also come away feeling braver after trying something new. Think back to a time when you were nervous about doing something for the first time. Maybe it was the first time you caught the train or tried to cook a new meal. Overcoming those nerves can give you a stronger sense of accomplishment afterward and give you the confidence to try even bigger things in the future.
Sometimes it's a good strategy to learn a new skill with a group of people, so you can encourage each other and help build everyone's confidence. At Mambourin, we work with individuals and groups and provide lots of opportunities to participate in new activities. You can use your NDIS funding to access our huge range of choices, which can help you to build new skills.
There are other skills you can learn at Mambourin as well. Check out the life skills we can help you develop. Learning skills such as how to manage your home or travel independently can be very good for your confidence.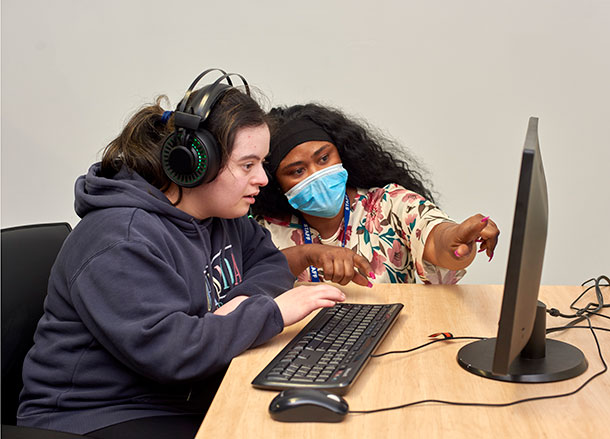 Do fun activities
When we're having fun, we're at our most positive, which is an important key to improving self-confidence. A good strategy for building confidence can be doing something you're good at and becoming even better at it. Maybe you're really good at bowling, soccer or something else?  Doing those things you enjoy with family or friends can help with this sense of positivity.
Mambourin has many fun group activities to allow you to socialise and have a great time with other members of the community. For example, we provide group-based activities and outings called Community Choices, which involve activities such as lunches, sports and recreation events and day trips. These promote communication skills, physical activity and general wellbeing – but most of all, can be loads of fun.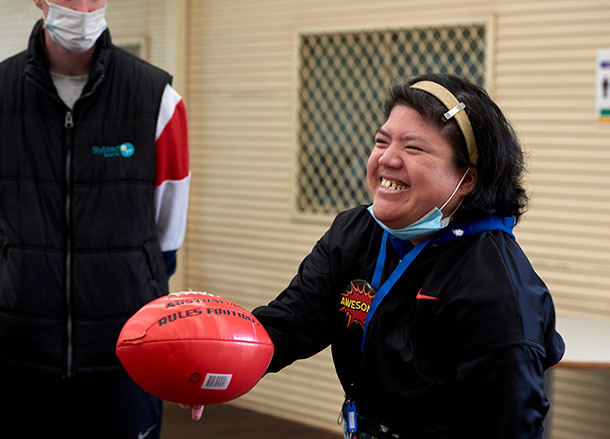 Come join in the fun!
Want to see more? Connect with us on Facebook to see photos from recent activities and programs at Mambourin. If you would like to find out how we can support you, give us a call on 03 9731 9200, or fill out our contact form.