When Daniel from our Altona community saw the new staff uniforms roll out last year, he asked his grandmother to make him one of his own.
''I loved Mambourin's new logo and I asked Grandma to put it on a shirt for me,'' Daniel says. "I want to feel a part of the team.''  We quickly realised that other community members felt the same way – so the marketing team enlisted Daniel's help to design a t-shirt just for them.
Daniel sat in the office with Mahal, Community Hubs Manager and together they drew some designs. This was when Daniel came up with the slogan "Mambourin is my community'' – and what a great slogan it is!
''When I see others wearing the shirt I feel shocked that I started that. I feel special when I see other people in the customer shirt,'' Daniel says.
T-shirts are available for all of our community members to purchase at cost price – please speak to the admin team at your local hub if you're interested.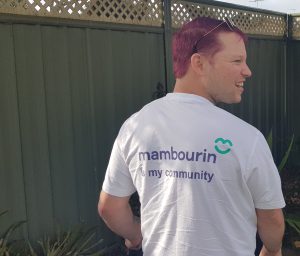 Back to latest news